Here are some of the exciting new features available in Gopher 4
Spellcheck has been added throughout the program.
New calendar with options to display more details, including customer names & job description, job capacity, job count, revenue, expenses, profit, payments received.

In this example, the calendar is showing job details, job capacity and color-coded dates (past due dates are red, upcoming dates are green).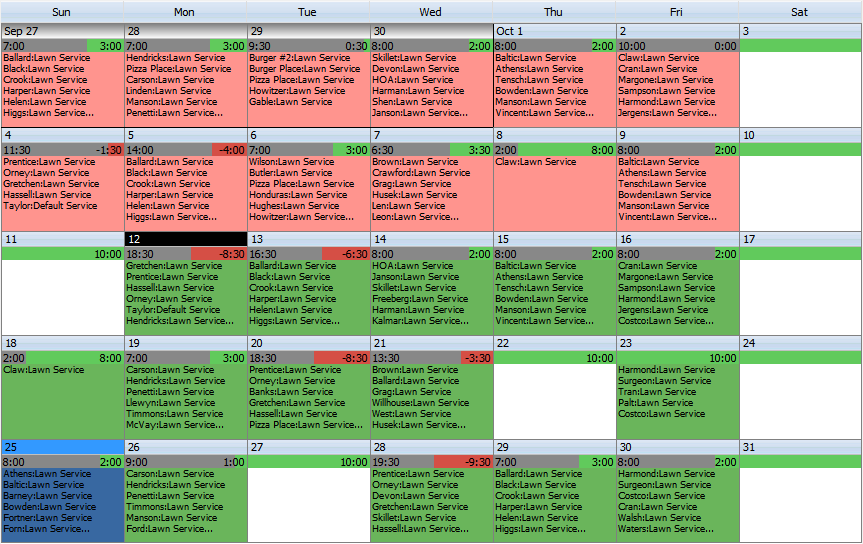 Job Capacity - Displays how much time you have available (or overbooked) at the top of each day.

The example below shows two dates from the calendar, the 13th and 14th. The 13th has 16.5 hours of work scheduled, which exceeds the capacity for the day by 6.5 hours. The 14th has 8 hours of work scheduled for the day, with 2 hours of capacity still available.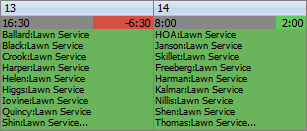 You can set your work capacity as a fixed number (10 hours per day in this example) or you can tell Gopher to calculate capacity each day based on your employees' work schedule.
Calendar Filter - Now you can change the calendar to show the schedule for a specific customer, property, crew, or route
Inclusive sales tax - Gopher now has an option to calculate tax based on tax-inclusive pricing. This is useful for users in certain countries who do not want to add sales tax to the line item amount because it already includes the tax (e.g. Value-Added Tax or VAT).
Improved Customer Dialog Window - View customer's entire billing history from one location on the customer dialog window.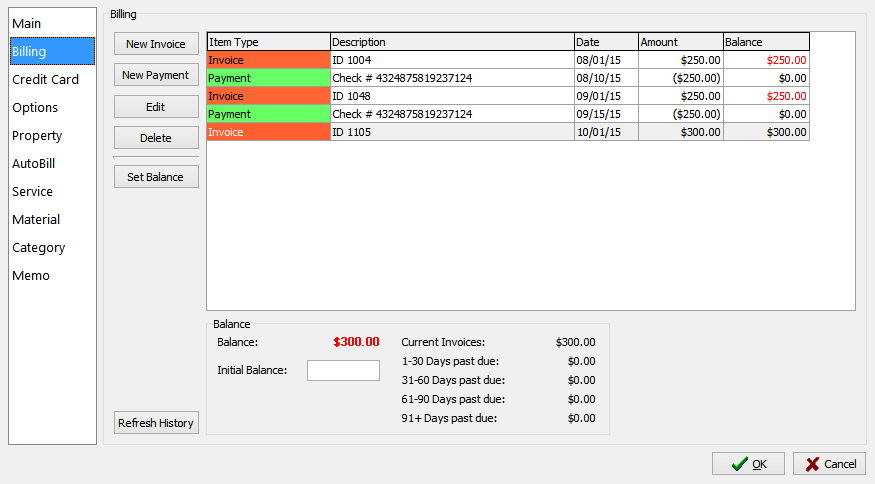 Customizable invoices (coming soon...) - Gopher's invoices are now based on a new reporting language which will allow you to customize many aspects of the invoice.
New In Gopher 4 Plus & Pro
Email Invoices - Email invoices to customers who have an email address and print out the rest for those who don't.
Credit Card Processing - Process credit cards automatically via Stripe. No signup or monthly fees. 2.9% discount rate + $0.29 per charge. Stripe is available in 21 countries (including the U.S., Canada, U.K., and Australia). Please click here to see if Stripe is available in your country.


Barcode Support - Barcode scanner support is now built into Gopher Plus & Pro. This was previously an add-on feature.
Throttle - Are some of your customers' lawns taking a beating from the heat? Or are they growing too quickly from extra rain? Now you can change the job frequency for one or more jobs from a single place to meet the needs of multiple customers. You can even set up a throttle to behave differently for certain months or date ranges.
Blackout - Lets you blackout a set of dates or certain days of the week for your entire company.
Schedule Controller - The new schedule controller feature lets you quickly schedule the same service for multiple customers all at once. This is really useful if you have multiple customers who are on the same schedule for the same service (e.g. your monday lawn customers). Most users will now be able to schedule the bulk of their customers in a matter of minutes use this feature. You can always customize the individual jobs or add extra jobs to a controller.
Beta Features
Route Optimization - We are currently beta-testing a new feature which lets Gopher automatically optimize your routes each day using map data. Please contact us if you are interested in trying this exciting new feature (limited enrollment).